Radio Nuru in Mosambiek deur Sikloon Kenneth beskadig
Sikloon Kenneth het op Donderdag, 25 April, die verre, noordoostelike deel van Mosambiek getref. Tydens die storm is ons radiostasie, Radio Nuru, se eiendom en personeelbehuising ernstig beskadig. Dit is die tweede tropiese storm wat binne ses weke Mosambiek getref het. Sikloon Kenneth se hewige reënbuie en sterk winde wat oor vier dae geduur het, het groot oorstromings en vernietiging van oeste, huise en ander infrastruktuur veroorsaak.
Volgens 'n verslag van ds Andries Schwartz, 'n sendeling wat tans saam met sy vrou, Sunette, die radiostasie bestuur en onderhou, is ongeveer 70,000 mense in die Macomia omgewing deur die storm geraak. Meeste inwoners het hulle huise verloor en is sonder enige voedsel. Boere is veral deur die storm geraak, omrede hulle hul oeste verloor het. Omdat die reënseisoen aan sy einde is, kan hierdie boere glad nie meer plant nie. Die lyding en verlies wat deur die storm veroorsaak is, is baie ernstig en talle mense is sonder hoop.
Schwartz het die volgende gesê; "Ons distrik (Cabo Delgado) is die ergste deur die sikloon getref. Natuurlik was dit spanningvol gedurende die storm, maar wat ons onkant gevang het, was dat die storm vooraf sterker en al hoe erger geraak het. Die sikloon het ons eers teen 9 uur die aand getref, maar die wind het reeds van vroeg die oggend sterk gewaai. Teen laat middag het talle bome in ons erf omgewaai. Teen 7 uur het die stormwind ons dakke 'n paar keer probeer oplig. Wat ook sleg was, was dat ons van ons personeellede boodskappe ontvang wat gesê het; 'my dak het nou net weggewaai', 'my huis het sopas omgeval'. Dis toe wat ons besef het dat die skade baie groter is as wat ons gedink het."
Omtrent 90% van die inwoners het hulle huise verloor. Vyf van ons omroepers inkluis. Twee van ons geaffilieerde pastore het ook hul huise en kerkgeboue verloor en 'n gedeelte van ons radiostasie se dak het weggewaai. Ons radiosender het ook skade gely. Verder bereken ons dat die storm omtrent R300,000 se skade aan ons eiendom, personeelbehuising en ateljee veroorsaak het.
Volgens Schwartz is die grootste behoefte onder mense, voedsel en tydelike behuising. Oor die langtermyn moet huise herbou word en daarvoor word sinkplate en ander boumateriaal benodig. Nadat die storm getref het, is helikopters deur humanitêre noodorganisasies na die geaffekteerde areas uitgestuur om mediese hulp en voedsel aan slagoffers te bied. Enige addisionele ondersteuning sal uiters waardeer word.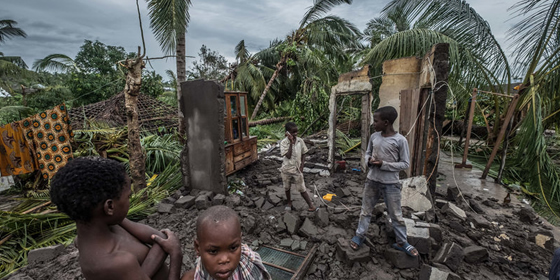 ---
Cyclone Kenneth wreaked havoc on Radio Nuru in Mozambique
Cyclone Kenneth made landfall on Thursday, 25 April, in the far north-eastern part of Mozambique. Our radio station, Radio Nuru's property and staff housing was severely damaged during the storm. It is the second tropical storm to hit Mozambique within six weeks. Torrential rain and strong wind caused massive flooding and destruction that lasted a total of four days.
According to a report from ds Andries Schwartz, a missionary who is currently managing the station together with his wife Sunette, approximately 70,000 people were affected by the storm in Macomia alone. Most of them lost their houses and remain without food. Local farmers' crops sustained severe damage and they see no chance of sowing again, since the rainy season is coming to an end. The suffering and loss caused by the storm is distressing and many are in despair.
Schwartz says; "Our district (Cabo Delgado) was hit the worst by the cyclone. Naturally, the whole ordeal was very stressful from the beginning. The long build-up really caught us off guard. The cyclone made landfall at around 9pm, but the wind had picked up earlier in the morning. By mid-day countless tree's had toppled over on our property. By 7pm the wind had already lifted our rooftop a couple of times. What was even worse was the messages we received from our staff saying; 'my roof just blew away', and 'my house just crashed down', that was when we realised how serious the storm was."
A total estimate of 90% of the villagers lost their homes, that includes five of our broadcasters. Two of our associate pastors also lost their homes, along with their church buildings. A part of our station's roof was blown away by the wind and the radio transmitter was affected. The total damage to our property, staff housing and studio is estimated at R300,000.
According to Schwartz, the community's immediate needs are food and temporary shelter. Homes will have to be rebuilt and residents are especially in need of corrugated iron sheets and other building materials. In the days following the storm, several helicopters were dispatched by humanitarian aid organisations who provided victims with medical help and food. Any additional support that can be provided will be welcomed.