FEBA Radio South Africa (FRSA) and our partner FEBC (Far East Broadcasting Company) is an international Christian missions organisation which broadcasts the Gospel of Jesus Christ to the least-reached nations on earth.
Our mission is to broadcast the Gospel of Jesus Christ to people around the world isolated by economic, educational, geographic, political and religious barriers. Many of these "forgotten people" of society are located in countries with tremendous political and cultural opposition to the gospel and therefore limited access to Christian resources.
Members of the FEBA Radio South Africa BOARD
FEBA Radio South Africa STAFF
They oil the machine and keep it running
FEBA Radio South Africa's staff 2020
From left to right – Liezl Erlank. Su-Rika Jones. Ingrid Jansen van Rensburg. Eva Pretorius. Jurie Vermeulen
PARTNERSHIP
FEBA is a member of FEBC International. FEBA and FEBC has developed partnerships with local church and para-church organizations around the world. During times of disaster, these affiliations make it possible for FEBA/FEBC to help thousands of individuals by broadcasting lifesaving information regarding the distribution of emergency resources including food, medical relief, and housing.
FEBA/FEBC also partners with local churches and NGOs on an on-going basis to offer marriage/family seminars, Christian concerts, children's outreach, radio distribution and other compassion services.
Some of the organizations we partner with include the Vietnamese Evangelical Church (VEC), Food for the Hungry, World Vision, Family Bible Hour, Russia Radio Bible Institute, Assemblies of God, Arabic Bible Outreach Ministries and The Bible Society to name a few.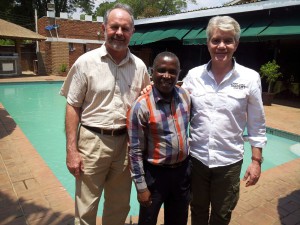 Amos Siyabu is FEBA Malawi's National Director. FEBA Malawi no longer operate under FEBA Radio South Africa, but as an entity on its own and only partner with us.
FIRST RESPONSE MINISTRY:

Since 2004 FEBC has been working to improve and broaden our disaster response capabilities in countries where we serve, by developing a radio broadcast that can be set up within the critical 72 hours following a major natural disaster.  We have responded to disasters in India, Indonesia, and the Philippines, offering life-saving information and distributing radios to people who lost everything.
Part-Time Representatives Group 1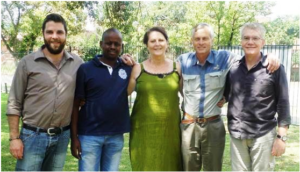 FLTR – Ross Gauldie – Gauteng (0824194616 brgauldie@gmail.com), Thokozani Hlatshwayo, Past. Elize Pieters – Coordinator (076 222 4831, epieters@febaradio.co.za), Ds Danie Louw – Gauteng (083 279 4970, exalto@mweb.co.za), Dr. Jurie Vermeulen
Part-Time Representatives Group 2

FLTR – Liezl Erlank, Thys Herbst, Daleen vd Merwe, Riana Crafford – Gauteng (083 775 2405, rc.crafford@gmail.com)
Part-Time Representatives Group 3

FLTR – Yolande Steenkamp, Ms. Elsa Wesels – Western Cape (082 576 9071, febawk@ngtableview.co.za), Rev. Franco & Mrs. Yvonne Abrahams – Western Cape (083 446 9385, fabrahams@febaradio.co.za), Past Elize Pieters
FRSA's Dream Team of Mailing Volunteers

FRSA staff and board members enjoying the company of our precious volunteers over lunch – December 2015